We are buying, but at this time we are limiting our purchases to:

lots consisting of mostly blocks, sheets or rolls (i.e. not single stamps)
with denominations of 30¢ and up.
We will accept a small percentage of the total lot in lower denominations.
We are unable to travel to buy, or accept visitors at this time, but we are happy to buy by mail. If the lot is clean, sorted and quantities are well documented with a list, payment will go out next day. Please write with a basic description of your holding (including approximate total face value).
e-mail: orders@discountpostage.ca
Thanks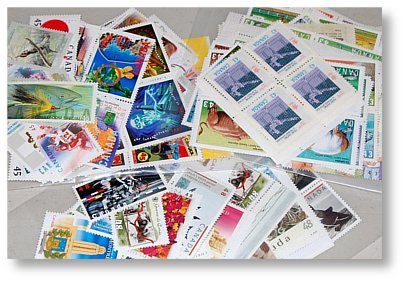 We buy collectors' surplus mint Canadian stamps.
We offer:
Instant payment
Top current market prices
Sell of all your excess mint Canadian stamps in one easy transaction, with no waiting.
Our Terms of Buying
All stamps must be full gum, never hinged and undamaged.

(We do not buy "Unused, no gum" stamps.)

Our current buy prices are:

Values $1.00 and up: 55 % of face value
Values 30¢ to 99¢: 45 % of face value
Values 10¢ to 29¢: 25 % of face value
Souvenir sheets with multiple different values: 40% of face value
Values under 10¢: We are no longer buying values under 10¢ (see below for explanation)

Stamps must be sorted by denomination (value) and counted,

ready for spot checking. If you do not want to count and sort, we will buy unsorted lots at a flat 30% of face value as long as they are not all under 30c values.

All lots should be accompanied by a listing of denominations, quantities and totals that we can spot-check.

(Unless we are doing the work for you).

Souvenir sheets and complete booklets should be left intact.

Do not break them up into separate denominations. Do not fold souvenir sheets. Be sure that booklets are actually complete. If some stamps have been removed, tear the balance of the stamps out (or cut self-adhesive booklets) so that it does not get counted as a complete booklet.

Semi-postal stamps (e.g. 10¢+5¢)

must be counted as the postage value only (the first number -- the second amount was for charity).

We buy only stamps valid for postage.

No Postage Due, Official or Wildlife Conservation stamps.
"P" stamps are 92¢ stamps.

Payment

We will pay by cheque drawn on our Canadian or US bank, or by Interac email transfer for Canadian sellers who bank online. We can pay in US$ on our US bank for US sellers. We can also pay in Euros or Sterling for European or UK sellers. Current currency conversions are available at Xe.com

If you are shipping from outside Canada, your post office will require you to apply a Customs Declaration to the parcel. Declare the CASH value of the contents, not the Face Value.

Stamps with values under 10¢.

Due to the low value, low demand and impracticality of using values under 10¢ as postage, combined with the high cost of labour in sorting and counting these values, we are no longer buying them.

"A" stamps and other issues with no denomination.

We cannot use these as even the Post Office does not know how to count them.
All offers to purchase are subject to our current requirements.

Minimum quantity we are interested in purchasing is $200 face value.
For more information, please contact:
Roy Lingen
Phone: 613-374-2091
(Eastern time business hours / 7 days a week)
e-mail: orders@discountpostage.ca
Shipping Address:
Please do not ship without contacting us first!
Roy Lingen
P.O. Box 99
Verona, ON KOH 2W0
Canada
This site owned and maintained by:
Roy & Deborah Lingen
Verona, Ontario